Custom Lees Ferry fishing guide boat
Dave Foster was the first fly fishing guide at Lees Ferry to guide from a jet boat. He purchased this 22′ Koffler in 1992 and thousands of trout have been released alongside her since. Recently re-powered with a new 350 inboard jet she is running strong as ever!
We provide the finest quality fly fishing equipment for our guests.
SAGE FLY RODS
ECHO FLY RODS
ORVIS RODS AND REELS
GALVAN FLY REELS
RIO FLY LINES
Custom hand tied flies
Flies can be purchased at the Marble Canyon Lodge. Your guide also carries a selection of top
producing patterns for you to use. You will be charged $2 each for any flies that you loose or are destroyed during the day.
What to bring
We recommend all of our guests have the following few things that can be purchased locally if you don't already have them.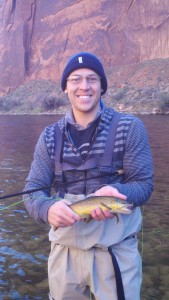 Fishing license
Waders and boots (can be rented locally)
Polarized sunglasses
9′ 5x leaders
5x-6x tippet (fluorocarbon is best)
Sunscreen